laptops
Asus ZenBook 3 Deluxe UX490UA Laptop Review
This beautiful laptop is runway-ready, but is it worth the money?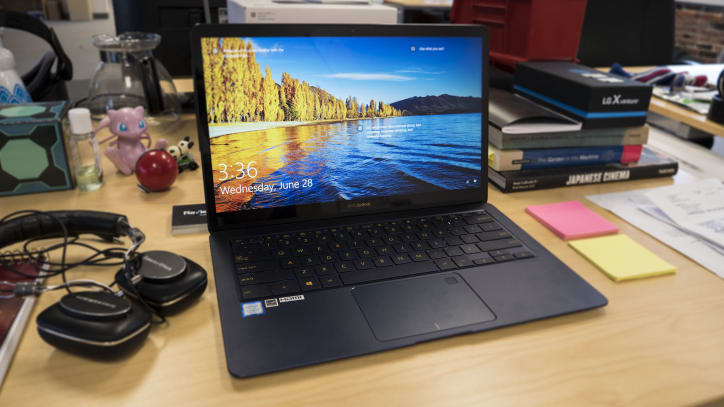 Credit: Reviewed.com / Jeremy Stamas
There are two different kinds of people at the airport: the person who wears oversized sweatpants and the first-class passenger who dresses to the nines. Hey, some people just want to be comfortable; others are willing to pay a premium for style.
The Asus ZenBook 3 Deluxe (UX490UA) (available at Amazon), with its eye-catching blue and gold color scheme, is designed for the gotta-have-it crowd. Between the rarely seen color palette and super-slim design, this premium computer is both powerful and attractive. However, it's more than just a pretty face.
The quad speakers are powerful, loud, and sound fantastic even in a large room. From tons of RAM to a high-end processor, you're paying out the nose for the guts, but you're getting loads of power in a thin profile. The battery life is pretty underwhelming, though, so you're going to have to go outlet hunting at some point. But you can charge the machine to 60% in less than an hour—perfect for those quick layovers.
But after spending a week with the it, I noticed a couple of flaws. The battery life was disappointing, the display turned into a mirror in direct sunlight, and the fans whirred constantly. If you like to travel in style, this swanky ultraportable is the perfect companion, but there are cheaper alternatives.
About the Asus Zenbook 3 Deluxe UX490UA

The ZenBook 3 Deluxe is one heck of a powerhouse. Between the powerful CPU and effective cooling system, the hardware compares well to other high-end laptops. With the exception of a larger display (12-inch vs. 14-inch) and battery, the components are the same as the Asus ZenBook 3. However, unlike the ZenBook-which offers two different configurations-the UX490UA only comes in one configuration, so there's no way to customize it. Here are the specs inside our test unit:
Intel Core i7-7500U
16GB RAM
512GB PCIe SSD
Intel Graphics HD 620
14-inch (1920 x 1080) LED-backlit full HD display
Fingerprint sensor
Cooled by a copper-alloy heat pipe and liquid-crystal polymer fan
3 USB-Type C ports
46Wh battery
Aluminum alloy chassis
Backlit keyboard
This premium machine compares spec-wise to the HP Spectre X360, the 13-inch MacBook Pro, and the Dell XPS 13 (9360), but the difference is in the price and configuration options. Both the Dell and HP start under $1,000, and even when customized to match the ZenBook's specs, cost $200-$400 less. The MacBook Pro, on the other hand, when outfitted with the same specs as the ultraportable, is $500 extra.
Advertisement - Continue Reading Below
What We Like
The dazzling design will turn heads
I'm a sucker for beautiful electronics, which is one of the reasons why I'm drawn to the UX490UA. Depending on the light, the gold-accented case can appear velvety black or royal blue, either way, it makes quite a statement. This color palette is unique and I love it, but if you prefer a more traditional look there's a silver version too. And once you look beyond the attractive design, the laptop's impressive build quality deserves its own call-out.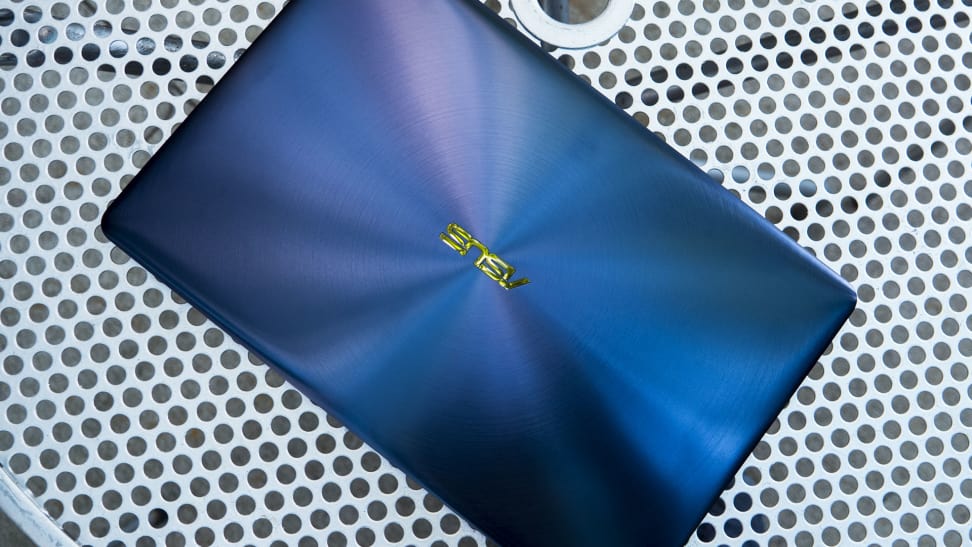 The machine feels strong and rigid, as the chassis is constructed from aluminum alloy. The hinges are tight and secure, so the screen isn't going to flop open on you. You can even open the screen with one hand, as it has a good balance between screen and body. The keyboard is also springy and nice to type on, but crackled a little when I pressed down on it.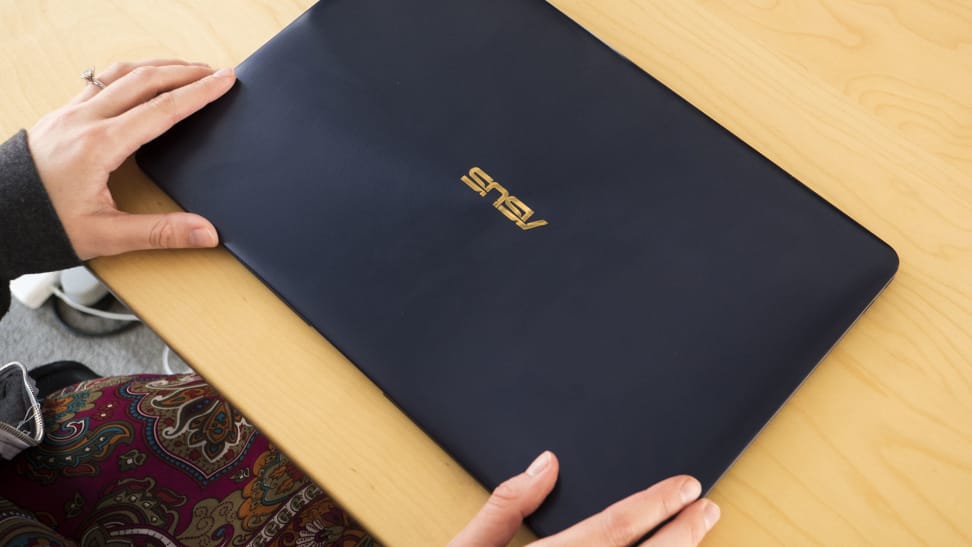 For a tiny device, the speakers are powerful
The UX490UA has four speakers: two above the function keys and two underneath the keyboard. For a small machine, the audio is excellent. When I played the trailer for the The Last Jedi, I got chills. John Williams' familiar score was thunderous and wonderful, and I could hear the highs of those string instruments loud and clear.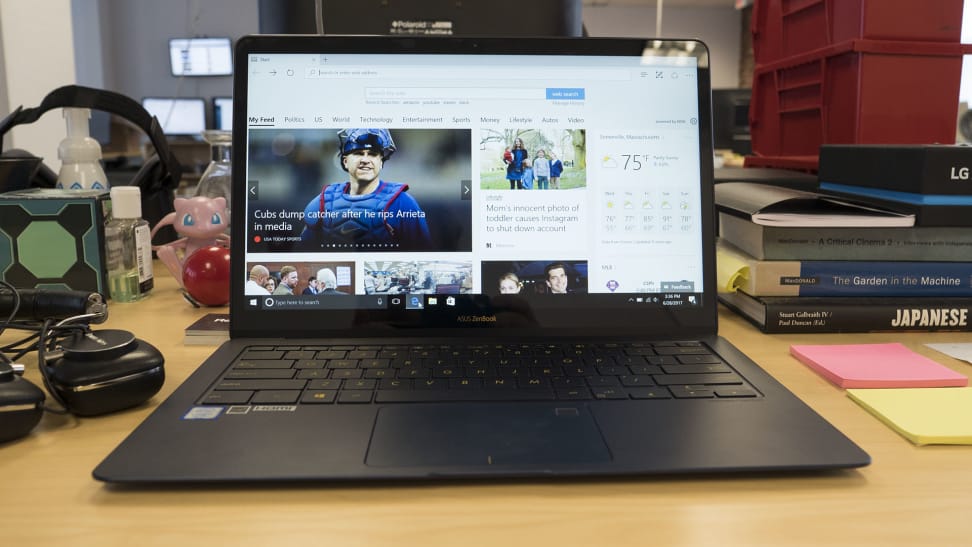 This miniscule machine charges lightning fast
If you don't like being tethered to an outlet for a long period of time, then the UX490UA is for you. I know I hate waiting around for a laptop that takes eons to charge. Thankfully, this machine supports fast charging, going from 0 to 60% in less than an hour. That's good, because while the ZenBook is a fast machine, its below-average 46 watt-hour battery just doesn't hold up.
What We Don't Like
The battery life is underwhelming
Asus claims the UX490UA offers up to nine hours of battery life, which might be true if you dim the screen and let the laptop idle, but under normal workloads we didn't see anything close to that.
When we put the 46 watt-hour battery through our intensive battery test—which cycles through a bunch of power-hungry tasks—it lasted a little over three hours. For comparisons sake, the Dell XPS 13 (9360) lasted for six hours in the same test.
You're going to want to keep the charger closeby.
Tweet It
Our secondary battery test, which just continously browses the web, exhausted the battery in five hours. That's a better result, but you're still going to want to keep the charger closeby anyway. If you're desperate for truly superb battery life, we recommend the ThinkPad X270. It comes with dual batteries and it lasted a combined total of nine hours in the web browsing test.
The low resolution webcam is disappointing
For a high-end ultraportable, the 480p webcam is behind the curve. I looked more like a figure in an oil painting than a living person. As you can see in the unflattering picture below, my face looks like it's made of wax: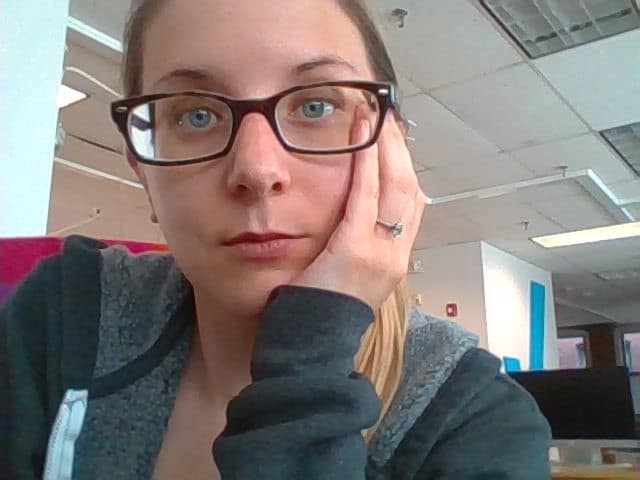 The colors are accurate, but that's the only positive thing about it. The built-in webcam will get the job done in a pinch, especially if you're just using it for the occasional Skype call, but it's a really low quality accessory for a $1,699 machine. If worse comes to worst, you can always purchase an external webcam.
The fan spins constantly
The fan on this thing is always on. It doesn't matter what you're doing. You can only hear it in a quiet room, but it's still annoying. I found the sound tolerable, but I know people who hate fan noise and if that's you then this might be a bad choice.
The liquid-crystal polymer fan kept the unit nice and cool, but it worked harder when running videos or more demanding tasks like gaming. If you're unable to cope with a noisy fan, then you might want opt for a quieter machine like the 12-inch MacBook.
The display produces rich colors, but is otherwise hit or miss
The display is made of Corning Gorilla Glass 5, which is the same type of glass that protects smartphones. I'm all for damage-resistant glass, but in this case it turns the display into a mirror. When we took the UX490UA outside for a photo, we could barely make out the desktop background; all we could see was the reflection of the apartment buildings across the street. We even maxed out the brightness, but to no avail.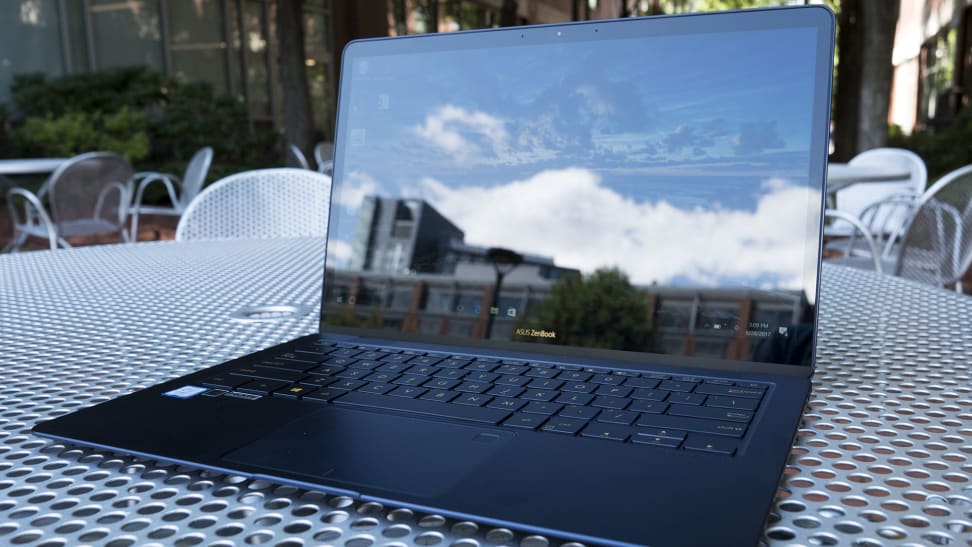 Reflective displays are common with touchscreens, but the ZenBook isn't a touchscreen, so why didn't Asus opt for a matte display instead? Otherwise, the display seems great. It fits a 14-inch LED into a slim body, the 1080p resolution is better for battery life, and the colors really pop. When I watched the trailer for the video game Horizon Zero Dawn, I couldn't help but notice how vibrant Alloy's orange-red hair looked.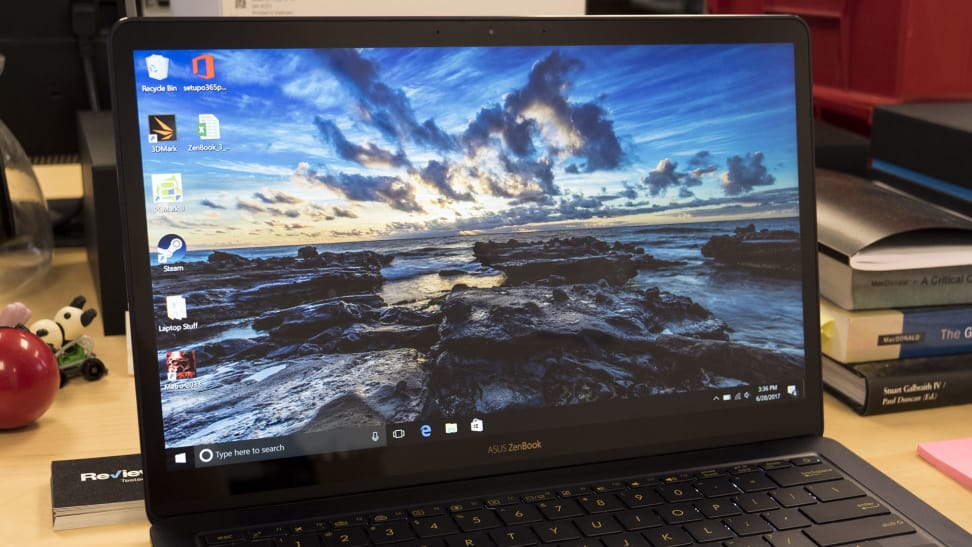 Should You Buy It?
Yes, but there are cheaper alternatives
If you're looking for a luxurious-looking machine that performs well and is super lightweight, then you can't do much better than the ZenBook 3 Deluxe. It's slim enough to travel with and powerful enough to handle everyday tasks. Whether you're working on the next great American novel or binge watching a compelling documentary on Netflix, it's a solid machine. The battery life is only so-so, but the classy design is a great conversation starter.
It's easy to fall in love with this clamshell, but it's not for everyone. The $1,699 price tag is pretty steep compared to its closest competition: the HP Spectre X360 and the Dell XPS 13 (9360). You can customize the HP to be the same storage, RAM, and processor for just $1,249 (after a $100 discount). Plus, it comes with a 60Wh battery, so you're getting better battery life.
The Dell XPS 13 (non-touch) is limited to 8GB of RAM, but you can get the same level processor and storage (plus an Iris Plus integrated GPU) as the ZenBook for $1,499. So, in the end, both of these options would be cheaper than the ZenBook, with longer lasting batteries. Oh, and the Dell is available in rose gold while the HP comes in a handsome dark ash color.
The ZenBook 3 Deluxe is a premium machine, but you're paying a lot for the unique aethestic and top-tier innards. It's great you can get a travel-friendly ultraportable with phenomenal speakers and a head-turning design, but you're going to have to pay for it.
Our editors review and recommend products to help you buy the stuff you need. If you make a purchase by clicking one of our links, we may earn a small share of the revenue. Our picks and opinions are independent from any business incentives.
Our editors review and recommend products to help you buy the stuff you need. If you make a purchase by clicking one of our links, we may earn a small share of the revenue. Our picks and opinions are independent from any business incentives.
Advertisement - Continue Reading Below
Compare Prices
Our editors review and recommend products to help you buy the stuff you need. If you make a purchase by clicking one of our links, we may earn a small share of the revenue. Our picks and opinions are independent from any business incentives.
Get Our Newsletter
Real advice from real experts. Sign up for our newsletter
Thanks for signing up!