Laptops from Microsoft, Lenovo, Dell, HP, Acer, and a host of others let you pick from an astronomical array of products, with an equal number of configuration options. What you might not know is that new brands from China are on the rise, but you might not recognize all of them…at least not yet.
We've seen these types of company rise to the forefront in the past few years. Even five years ago you would have never seen a product from Hisense, TCL, or even Huawei gain shelf space at a Best Buy or Target, much less attention on Amazon. In the computer industry, upstart brands like Voyo, Cube, Teclast, and Jumper are all vying for the dollars of foreign buyers thanks to their low-priced but well-specced wares. Recently, a company called Chuwi sent me their flagship laptop, but it's not what you think.
The Chuwi LapBook 14.1 (MSRP $300, varies depending on importer) is one of Chuwi's first laptops, and it shows as much promise as it is frustrating to use. Sporting a new Intel "Apollo Lake" chip inside and a big, bright 14-inch screen, it demonstrates that the big brands can't afford to rest on their laurels.
What does your $300 get you?
In the box, you get the laptop, some quick-start guides, and quality control documentation. You also get a cheap-feeling white charger, and ours came with the plug meant for Europe, so I found an adapter that let me plug it into the wall. The laptop itself is made of white and black plastic, and it makes no attempt to hide its casing with paint or stickers. The case feels a little ticky-tacky but on the whole (especially when typing) it holds together nicely.
Inside the Chuwi LapBook lives a low-power Intel Celeron N3450 quad-core processor with 4 GB RAM and 64 GB eMMC storage. These specs sound a lot like what you'd get from a $200 laptop like the HP Stream 11, but this chip is way more potent and you even get double the storage space. At an MSRP of $300, the LapBook offers very decent performance for most tasks.
This Chuwi has a surprisingly nice screen!
Tweet It
About that screen: it's a surprisingly nice one! Featuring IPS technology, the Chuwi's 14-inch display is bright enough, sharp enough, and has wide viewing angles. It puts the borderline terrible bargain-basement screens in the $200 bunch to shame.
But it's not all roses with the LapBook. The trackpad, for instance, is overly sensitive and sends the cursor flying when you inevitably brush up against it with your palms. Gestures are supported, but its generally twitchy nature means you'll often activate features unintentionally. The keyboard isn't horrible, but it has a little bit of a bouncy feel to it. I didn't mind typing on the Chuwi but your mileage may vary. It's also a little worrying to crack open a factory-fresh PC to find it already has an administrator account on it (with no password! Yikes!), but at least Windows 10 had a legitimate license and the installation was just about as clean as one from Microsoft itself.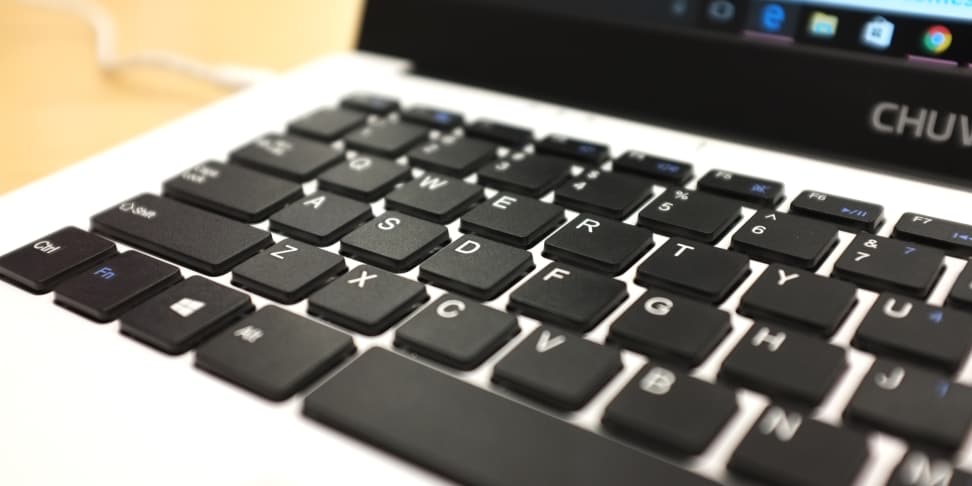 But, y'know what? This isn't a terrible computer by any stretch of the imagination. It runs apps like Google Chrome and Microsoft Office without a hiccup. Gamers who have tried this laptop have been able to play titles like League of Legends and Minecraft, so it'll play some contemporary games with low settings enabled. YouTube videos were smooth and stutter-free. Battery life, at least in my informal tests, was good enough to make it through most of the work day while multitasking.
How do you even buy this crazy thing?
Update: Chuwi started selling the LapBook directly through Amazon
If you do your shopping on Amazon or Best Buy, you're gonna be disappointed when you search for Chuwi. If you want to buy a LapBook, your best bet is to order from an online store like GearBest, Banggood, or AliExpress. $300 might be the MSRP, but you'll find that all kinds of discounts and flash sales apply. This Chuwi goes for between $260 and $290 as of this writing.
If you're thinking about picking up this Chuwi, also consider that there doesn't appear to be a US warranty of any kind, and spare parts are likely to be impossible to find. These three stores I mentioned all give shoppers varying degrees of protection against DOA products and defects, so shop carefully. GearBest, for what it's worth, has a 45-day money-back guarantee and a year-long "free repair warranty." And before you go hoping for 2-day shipping, forget it—these sites often ship straight from China and deliveries can take as long as two weeks. So much for Amazon Prime.
Who knows? The next time you go to Best Buy, you might be shopping for a Chuwi.
Tweet It
The LapBook is a well-specced bargain, but I don't think that's quite the point. What Chuwi has shown is the ability to make a decent computer for a nice price. The two major snags for me are that the LapBook isn't widely available, and I'm not sure I'd give it a hearty recommendation due to warranty and support concerns. But, if you're curious and have $300 to burn, you might really like this little laptop.
Just like with Korean electronics companies 20 years ago, and Japanese ones a half-century back, it's only a matter of time that brands like this start to make their mark on America. Keep your eyes peeled—the next time you go to Best Buy, you might be shopping for a Chuwi.
Our editors review and recommend products to help you buy the stuff you need. If you make a purchase by clicking one of our links, we may earn a small share of the revenue. Our picks and opinions are independent from any business incentives.